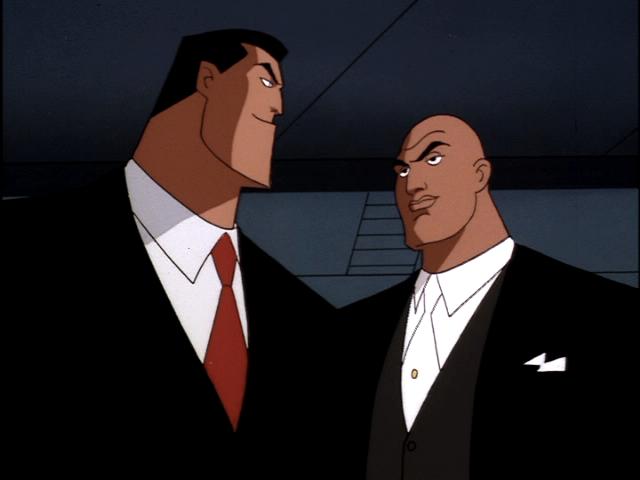 While the ruthless corporate CEO as villain is pretty much a stock character in modern pop culture, superhero comics have always conspicuously placed successful businessmen on both sides of the hero/villain divide. Yet an interesting, and perhaps counterintuitive, pattern recently occurred to me. Just off the top of my head, here are some of the most prominent superhero characters who have, for some significant chunk of their histories, been portrayed as CEOs of large corporations:
Bruce Wayne (Batman)
Oliver Queen (Green Arrow)
Tony Stark (Iron Man)
Ted Kord (Blue Beetle)
Here are the first four CEO supervillains who spring to mind:
Lex Luthor
Wilson Fisk (Kingpin)
Adrian Veidt (Ozymandias)
Norman Osborn (Green Goblin)
Ok, comics geeks, pop quiz: What do the four heroes and the four villains each have in common?
The answer is that none of the four heroes founded the corporations that bear their family names: Each of them inherited their wealth. In some cases the heroes bear substantial responsibility for the success of their companies, but in the case of Stark and Kord, this is primarily a function of their scientific and inventive genius, not their business acumen. All but Wayne have, for some portion of their history, faced financial difficulties as a result, either losing or surrendering control of their companies at least temporarily.
For the supervillains, precisely the opposite is true. While the TV show Smallville and a handful of one-off comics depict Luthor as born to wealth, he has typically been portrayed as a child of abusive, impoverished parents who rose from the mean streets of Suicide Slum to found LexCorp. Fisk, too, grew up poor and bullied. Veidt describes his parents as an ordinary, unremarkable couple, and it's implied that they are working or lower-middle class. [Update: As a commenter notes, I'm misremembering: Veidt's parents were actually wealthy, but he chose to give away his inheritance to charity as a teenager in order to start from nothing.] Osborn's father was an industrialist who raised Norman in relative luxury… but also an abusive alcoholic who lost the business and his fortune before Norman was college aged, requiring him to effectively start over from scratch. [Update: I could have added Stark's bete noire Obadiah Stane—played by Jeff Bridges in the movie—whose "degenerate gambler" single father left him orphaned as a child thanks to a round of Russian roulette.] While Kingpin's wealth comes almost entirely from his criminal operations, with the "legitimate business" of Fisk Enterprises serving primarily as a front, the others seem to have earned most of their wealth by more-or-less legal means.
Now this ought to be at least somewhat surprising. Conventional wisdom, and the vast majority of popular film and fiction outside the superhero genre, suggest that the heroic characters—the ones we admire and identify with—ought to be the ones who earn success through their own merits after a long struggle, while the villains are snobbish children of undeserved privilege. When it comes to the most famous businessmen in comics, though, we find that just the reverse is the case! While on the surface, for instance, the rivalry between Luthor and Superman pits cosmopolitan, urban corporate wealth against humble American rural values, it has also often been stressed that Luthor resents Superman for simply being born with spectacular abilities that dwarf Luthor's hard-won achievements. What might be going on here?
While the pattern in comics inverts the meritocratic ideal that seems to rule in most modern American fiction, it fits quite naturally with a pre-capitalist aristocratic ethos, which persisted at least through the early 20th century in the form of Old Money's contempt for the nouveau riche.  Jane Jacobs, in her book Systems of Survival, contrasted this aristocratic view, which she dubbed the "Guardian" moral complex, with "bourgeois" or "mercantile" ethics. In this worldview, while wealth and the leisure time it affords may be necessary preconditions of cultivating certain noble qualities (whether that's appreciation of classical art and literature, or the martial, deductive, and scientific skills of a masked crimefighter), the grubby business of acquiring money is inherently corrupting. The ideal noble needs to have wealth, while being too refined to  be much concerned with becoming wealthy. It's permissible for Stark and Kord to be largely responsible for the success of their companies because their contribution is essentially a side effect of their exercise of their intellectual virtues. Along similar lines, while the Fantastic Four have plainly become enormously wealthy from the income stream generated by Reed Richards' many patents, I don't recall many scenes in which we see Richards stepping out of the lab to apply his intelligence directly to their commercialization: His inventions are presumably sold or licensed to others who concern themselves with transforming Richards' genius into cash.
A similar pattern holds for literally noble or aristocratic power in comics. Princess Diana (Wonder Woman) and T'Challa (Black Panther) are hereditary royalty. Doctor Doom and Magneto are members of despised and oppressed minority groups (Doom is Roma; Magneto a Jewish mutant) who actively seize leadership of Latveria and Genosha, respectively. Democratic power doesn't fare too much better: Lex Luthor was briefly president of the United States.
The logic of this, as I apprehend it, is that the hero must wield enormous power in order to effectively perform the superheroic function, but cannot seem to seek it too eagerly, even for admirable ends—perhaps particularly when we consider that they typically make use of their great economic power by translating it into a superhuman capacity for physical violence. Spider-Man is always reminding us that "with great power comes great responsibility"—but the responsibility is the noblesse oblige of one who has (often reluctantly) found that power thrust upon him.
Bruce Wayne is perhaps the most obvious exception to this general pattern. While for Spider-Man, unasked-for power comes with the burden of responsibility, it is the burden of an obsessive sense of responsibility that comes first for Wayne, driving a protracted quest for hard-won mental and physical power. While every superhero has an iconic "origin story," Batman is  unusual among costumed crimefighters in that his long and laborious efforts to acquire his skills and powers are themselves a major part of the narrative. In Wayne's case, this deliberate striving after power is at least partially purged of its ordinary villainous connotations because it is itself depicted as an unwanted compulsion, thrust upon him unasked (like a radioactive spider bite) by the ghosts of his murdered parents. It is not, I think, an accident that this most calculating, ruthless, and unsentimental of the major superheroes is also the one super-CEO most commonly depicted as being exceptionally skilled qua businessman. He  is allowed this quality in part because, in sharp contrast to Tony Stark, he is not depicted as deriving much genuine enjoyment from the luxurious playboy lifestyle he uses as a smokescreen to cover his compulsive crimefighting. (It's interesting, incidentally, to contrast the apparent business savvy of Superman creators Jerry Siegel and Joe Shuster with that of Batman scribe and artist Bob Kane—evident not least in the fact that Kane is often given solitary credit as creator, though there's a pretty ironclad case for considering Bill Finger an equal partner.)
Protagonists in ordinary popular fiction, like most of us most of the time, are allowed to seek their own happiness—and we're allowed to share that happiness, through our identification with them—in line with ordinary bourgeois morality. But what makes superheroes "super" (and not merely heroic) is precisely their extraordinary capability to exercise coercive power and dominate others. In their case, bourgeois norms have to yield to the Guardian ethos—which, when their power is partly economic in origin, requires turning pop fiction's ordinary meritocratic ideals on their head, at least in that limited domain.