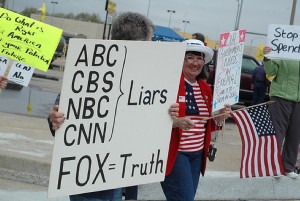 Over the past couple of weeks, a pair of posts I wrote about what I dubbed "epistemic closure" on the right kicked off a surprisingly broad set of conversations and debates—mostly, I suspect, because it slapped a name on a phenomenon that a lot of people already recognized, and which many conservatives were themselves feeling increasingly uneasy about.  Since so many smart folks took up and tried to elaborate on the idea, I figure it behooves me to try to round up some of those responses and see if I have anything useful to add.
First, just for the sake of clarity: When I initially dropped the term (apparently subconsciously borrowed from my undergrad philosophy days, where it has an unrelated technical meaning) the particular phenomenon I had in mind was rather narrower than the full range of issues people have been discussing under that rubric. What I had meant to describe specifically was the construction of a full-blown alternative media ecosystem, which has been become more self-sufficient and self-contained as it's become more interconnected. There is, I argued, reason to think that more consciously conservative news outlets could serve as a valuable counterweight to a professional class of journalists who largely self-identify as liberals. But in practice, I believe, it has instead become worryingly untethered from reality as the impetus to satisfy the demand for  red meat overtakes any motivation to report accurately. That does not mean conservatives are completely cut off from outside information—as David Brooks notes today, research suggests that frequent visitors to partisan sites are actually more likely to also visit "the enemy"—but it tends to be approached in roughly the same spirit we might read the Korean Central News Agency. The press are no longer seen as even biased refs in the public debate, but as members of one team or another in a conflict whose only referee is victory.
Also, perhaps slightly less obviously, the "closure" I'm talking about is above all a collective or systemic property, not a property of individuals: It is not primarily about the propensity of conservative persons to be "closed-minded" or "dogmicatically rigid" or anything like that.  I wasn't really trying to coin a phrase in the original post, but this was part of my rationale for not going with these more familiar terms. Closure is the universal tendency toward confirmation bias plus a sufficiently large array of multimedia conservative outlets to constitute a complete media counterculture, plus an overbroad ideological justification for treating mainstream output as intrinsically suspect. Nor, as Jon Chait and Jonathan Bernstein stress, was I making a point about a lack of "new ideas" on the right or even a general lack of intellectual diversity—at least until the internal disagreement begins spilling over into the mainstream and threatening the boundary between mediaspheres.  (Fierce debate in the pages of National Review might be OK—though as Jim Manzi demonstrates, there are limits—but the ultimate sin is taking your criticisms to CNN or NPR. You don't talk smack about family outside the family.)
These are related and interesting topics, but my use of the term was focused on the way the conservative mediasphere is increasingly able to resist incursions from the "MSM" narrative and picture of reality. Sometimes this results in a skewed perception of the importance of a story—the obsession with ACORN or the idea that the "Climategate" e-mails were some kind of game changer in the larger AGW debate. At its worst, it manifests as a willingness to hold and circulate factually false beliefs that a simple search ought to explode.
As a few folks have objected, I don't really make any attempt to "prove" that the right is worse on this front right now.  I think many of the responses from the right, even where they disagree on various points, bear out the broad intuition that this is a real phenomenon and a problem. Nobody's saying: "What on earth could he be talking about?" I could marshal a tedious list of examples, but they'd be redundant for people who already see the problem, and probably unpersuasive to people who don't—especially if they happen to hold some of the beliefs in question. Still, just as a brief refresher, recall that over the past two years, the movement's flagship publications and most prominent pundits have found it urgent to discuss: Bill Ayers' potential authorship of Obama's memoir, the looming threat of death panels, the president's crypto-Islamic background and allegiances, his attempt to create a "private army" via the health care bill, his desire to see America come to ruin, the imagined racism of Sonia Sotomayor… I could go on, and others could try to compose a list of equally nutty notions in circulation on the left to show it's just as bad on the other side, and presumably still others could argue earnestly that one or more of these are actually Very Serious Issues after all. It would be a spectacular waste of time and change nobody's mind. So I won't bother, because no enumeration in the span of a blog post will, or really should, outweigh the general impression an attentive person will have already formed from observation of the media landscape.
If you  think this is all crazy talk and don't see a problem, the rest of this is probably not very interesting. But since it seems like a fair number of people do see something awry, it may be worth going ahead and asking what happened and what it would take to correct course. It might be useful even if you also think the left is bad too, or has historically been worse, and bears some responsibility for the conservative reaction. (Cue Jack Nicholson's Joker: "You IDIOT! You made me. Remember?")  God knows nobody's more epistemically closed than the claque of collegiate Marxists who won't trust a word in the corporate press. Sidney Hook was probably a smug jerk. But that's not really on point. I'm not broaching this because I want to hold a contest for history's most awesome and open-minded ideology; progressivism does not win the Internets if people talk about their concerns with the intellectual climate on the right.
It's fair to ask why a libertarian would burn cycles on this when it's the left that's high in the saddle, growing government and guarding the executive's prerogatives as zealously as Bush ever did. The answer is that, while I've never called myself a conservative, I'd like there to be a functioning opposition to that—an opposition that's capable of governing if it gets good enough at opposing. I think Ramesh Ponnuru nails it in a videoblog with Jon Chait: A closed right stops being concerned with persuading  outsiders by serious argument and contents itself with revving up the base.
Consider the reaction to Jim Manzi, who took up Ross Douthat's challenge:
Conservative domestic policy would be in better shape if conservative magazines and conservative columnists were more willing to call out Republican politicians (and, to a lesser extent, conservative entertainers) for offering bromides instead of substance, and for pandering instead of grappling with real policy questions.
Manzi answered the call with a scathing analysis of Mark Levin's pop-con bestseller Liberty and Tyranny, in particular a shallow chapter on climate change that can only be called an insult to the reader's intelligence:
I get that people often want comfort food when they read. Fair enough. But if you're someone who read this book in order to help you form an honest opinion about global warming, then you were suckered. Liberty and Tyranny does not present a reasoned overview of the global warming debate; it doesn't even present a reasoned argument for a specific point of view, other than that of willful ignorance. This section of the book is an almost perfect example of epistemic closure.
Cue apoplexy.  This response from RedState may be my favorite:
Mark recognizes that when you are at war, while it is important to get facts right (and I think Mark did a darned fine job sourcing his book, giving you the chance to criticize it), it is also important to inspire the troops and to do so by distilling the realities of the fight into useful information. I frankly don't know if every statistic in Goldwater's Conscience of a Conservative was correct or not. Nor do I know if every statistic or number in Reagan's A Time For Choosing speech in 1964 was correct. I DON'T CARE. I know the facts were in the ballpark, and more importantly, the principles were timeless and correct. I have read Mark's book, and I know a little about the topics in question – and it's a good book, with good citations and a lot of good facts.
Nope, no problem here. Why fuss about the quality of arguments when you already know you're on "Team Levin"? Except, of course, that folks not already on Team Levin may take greater exception to being treated as uncritical dunces by the movement's opinion leaders, even if those who are on the team accept the condescension as a sign of affection.
So how'd we get here?  I've laid out some of my thoughts already. Matt Yglesias suggests that the left is less prone to systemic closure because it's more of a patchwork of interest groups.  There may be something to that, but I think it's common for partisans on both sides to think of the opposition as far more unified and ideologically coherent than they really are, and in any event, I don't know if this works as an account of why the problem seems to have gotten worse lately. Noah Millman had a long and thoughtful post that I won't really try to summarize, because it really demands to be read in full. But I will just quote the most fatalistic of the explanations, a sort of cyclical "all this has happened before, all of it will happen again" theory:
To a considerable extent, the life cycle of movements derives from the life cycle of the people who grow up within those movements. Young conservatives in the late 1980s and early 1990s saw their movement go from strength to strength – and learned that conservatism was always right and that people who didn't see that were fools. These same folks in the Bush years tutored their successors in appalling intellectual tactics: bullying and sophistry and identity politics. By contrast, the generation of liberals who came of age in the Bush years had to weather that bullying, had to cut through that sophistry – and were vindicated by events. I am continually impressed by the intelligence and sophistication of liberals ten years younger than I am. They are the leaders of tomorrow's left even more than today's, and the right is just not in the same league. It was, once, in 1960s and 1970s, when left-wing ideas were dominant and left-wingers intellectually complacent – even as their intellectual roof was falling in. The bright young things who saw that the roof was falling in, and who debated what their new home should look like, became the rising generation of conservative leaders.
Fatalistic, but also reassuring in a way. I'm under no illusions that all this discussion has sprung up because my original posts were saying something earthshatteringly insightful; this was obviously something there was a measure of latent (and sometimes not so latent) discomfort with on the right already. And while it's easy for me to snipe like Waldorf and Statler from the libertarian balcony, it takes some chutzpah for the folks within the movement to start openly allowing that the trend to closure is unhealthy, and begin talking about rolling it back. Maybe we're starting to see that correction already—though it'll take a while, and sustained effort, to make the cracks in the wall resemble a door.
Update: Conor Friedersdorf and Ross Douthat propose that it would help if the right could just be up front about the difference between base-servicing conservative entertainment and serious intellectual work—though Conor thinks it's unlikely. Jon Stewart, incidentally, has some funny (and musical!) thoughts on the distinction, and on the asymmetry between mainstream liberal reporting and the conservative counterestablishment:
Update II: As a writer at the Corner notes, the technical meaning "epistemic closure" has in the philosophy of logic really has nothing to do with what we've been talking about these last couple weeks. Presumably it was in the back of my head somewhere when I posted, but I had no intention of referencing that technical sense, and any attempt to link them is just going to yield confusion. As I mention above, I don't think it would be preferable to simply use "closed-mindedness," because that's not really what I meant either, and I don't want to confuse a group phenomenon with an individual disposition. So much as I, too, am getting a bit sick of the phrase, I figure I'll stick with "epistemic closure" and assume any logicians who happen by will divine readily enough that we're not using it in the technical sense.
Update III: Actually, come to think of it, there's a sense in which "epistemic closure" is not only  distinct from individual "closed-mindedness" but almost its opposite.  To be closed minded is to be unwilling to consider new ideas. But folks in the conservative media bubble often wind up far too willing to entertain all sorts of outlandish new ideas—provided they come from the universe of trusted sources.