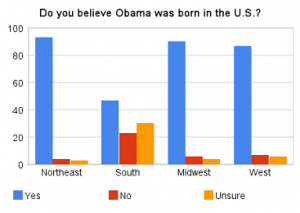 It's hard not to be disturbed by a recent poll suggesting that Birther Madness, while still marginal among Americans on the whole, has moved from fringe to mainstream in certain select demographics. More than a quarter of Republicans purport to believe that Barack Obama was not born in the United States, and even more proclaim themselves unsure. And while in most regions of the country, upwards of 90 percent know that he was, fewer than half of respondents in the South were willing to say so with confidence.  Now, certainly it would be unsettling if a significant chunk of the population had abandoned the realm of reasonable disagreement for racially-tinged conspiracist fantasy. But I'm not panicking quite yet.  As my colleague at Democracy in America notes, comparable numbers of Democrats during the Bush Administration told pollsters that they thought Bush had foreknowledge of 9/11—or at any rate were uncertain about whether he did. Now, probably some of those people interpreted this in a very broad sense and were thinking about the report that summer warning, in very general terms, that Al Qaeda was "determined to strike in U.S.," but assume a hefty chunk literally meant that they thought a sitting U.S. president deliberately allowed (if not engineered) the murder of thousands of American civilians for his own nefarious purposes. Yet I can't help but notice that, however much people may have expressed intense disdain for Bush, you did not really see a lot of behavior consistent with millions upon millions of people being seriously convinced that their president was a treasonous mass murderer.  I mean, what would you do if you were really-and-truly convinced that something like that were true? Take up arms? Throw yourself into a quest for conclusive evidence? Move to Canada?  Something, probably—or if you wouldn't, at any rate, some non-trivial proportion of the people who shared the belief would—or so I'd imagine. It's obviously too stringent to make it a condition of ascribing belief that people act on all the logical and practical implications of holding it, but when the disconnect is too profound, I think we're justified in characterizing some of these as pseudobeliefs, one subset of which is what I want to call "symbolic beliefs."
The classic case of a "symbolic belief" is what Orwell dubbed "doublethink": propositions you profess publicly, maybe even sincerely believe you believe, even while, on another level, there's some part of you that knows better, so that the false belief doesn't actually get you into practical trouble. Pseudobeliefs may serve any number of functions; I'm using the phrase "symbolic belief" for the ones that either work as a public expression of some associated attitude, or play some role in defining the holder's self-conception. In a post from last week, a commenter pointed out that there really are vegetarians and vegans, especially in certain punk scenes, who purport to believe that animals are not only morally equal to, but perhaps even morally superior to human beings. As he also pointed out, though, none of them really act as though they believe anything of the sort. Now, you might say that we already have a word for this: Hypocrisy. But I think it's worth preserving a separate term here, because we usually use that term for people who specifically promote standards of behavior that they either consciously don't really hold or do hold but are just incapable of adhering to (from weakness of will or whatever), and conceal this inability out of shame or fear. Symbolic beliefs, as I'm conceiving of them, are "sincere"—in that the person holding them probably isn't consciously or reflexively aware that they're false,  but also shallow, insofar as a subconscious lack of commitment to the truth of the belief renders it behaviorally inert. For those who aren't hardcore birthers, I'd hazard that the real meaning of professing either uncertainty or positive disbelief in the claim that he was born in the U.S. is something like: "I consider Obama phony, dishonest, and un-American." It's not, I hasten to say, that they really believe, deep-down, that Obama was born in Hawaii. It's more that—as with H.G. Frankfurt's definition of "bullshit"—the literal truth or falsity of the proposition is a matter of indifference; it's not really the point.
If this is right—and I allow for the possibility that this is an elaborate tale I'm telling myself to forestall freakout at the impending collapse of democracy—then without denying that this is a movement with some seriously, scarily crazy people at its core, we probably shouldn't hit the panic button just yet. We're accustomed to hyperbolic claims in political rhetoric when they're manifestly at least partly normative—"Bush is a fascist!" or "Obama is a Stalinist!"—but still tend to take comparable assertions that seem more strictly factual at face value. Things don't look quite as worrying if,  at least when they're coming from ordinary folks answering pollsters queries, we treat them as one more species of exaggeration in political rhetoric.